Instructions:
1. Cut top off of box. Turn upside down and cut doors and windows as shown. Leave door attached at one side so that it can close.
2. Measure and cut a 5" x 9" piece of white craft paper for roof top.
2. Trace and cut 2 side roof sections from white craft paper. Mark dotted lines on side roof pieces.
3. Fold roof top in half. Bend flaps on side roof pieces inward at dotted lines and glue to inside of roof top. Glue completed roof to the edge of tissue box. Let dry.
4. Apply one coat of texture medium to roof, making rough lines to represent shingles. Let dry.
5. Paint box grey, using straight strokes so that it resembles wood grain. Paint roof and door grey with a little brown paint swirled in to add texture. Let dry.
6. Lay the cabin on its side. Break or cut cinnamon stick to sizes needed as you work around the cabin. Apply small pieces of cinnamon stick around windows and doors for trim, and then fill in all sides. Do one side at a time and let dry before turning cabin to next side. Add a small piece of cinnamon to door for handle.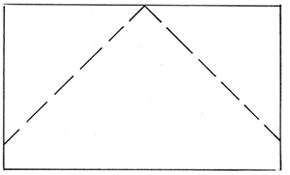 Cut 2 Roof Sides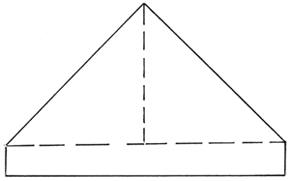 Fold roof sides along dotted lines