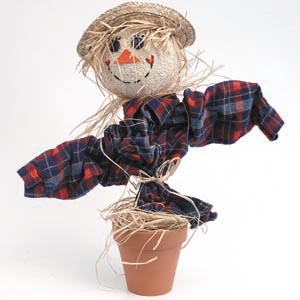 One of the farmer's friends, scarecrows are still used to scare away birds that eat the seeds and flowers of certain plants. Our scarecrow has an interesting face and fun clothes.
You will need:
6" Styrofoam ball
Wood 1/2" dowel - 36" length
Texture medium
Acrylic paint - Putty, Orange, Red and Black
Paint brushes
2 Large Dark Blue buttons
Wood triangle
Straw hat to fit head
Flannel shirt - size 2T or 3T
Raffia
Tacky paste
Scissors
Craft snips
Wire

Instructions: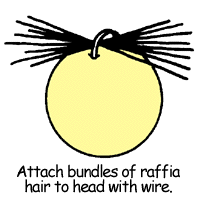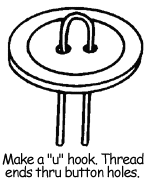 Using the craft snips, cut the dowel in half. Take the two dowel pieces and wire them together at the center of each dowel to make a cross. Move one dowel up so it is 6" from the top of the other dowel.
Take the Styrofoam ball and cover it with texture using a brush. Let dry overnight. Paint the textured ball with putty colored paint.
Bend two, 4" pieces of wire into a "U" shape. Thread the ends through the holes in the buttons then push into the foam ball for eyes. Paint the wood triangle with orange paint. Let dry then glue in place for the nose. Using a liner brush and black paint, add the smile, then paint red hearts at each end of the smile.
To make the hair, cut raffia into 8" pieces. Tie 10 strands together with wire at the center, then push the wire ends into the foam ball, around the face. Glue hat on top of raffia hair.
Push the short end of the dowel into the bottom of the foam ball. Tie some pieces of the raffia under the head.
Place shirt over horizontal dowel. Button up then glue to base of head, allowing some of the tied raffia to poke out of the top. Tie a piece of raffia around the waist of the shirt. If you are going to hang the scarecrow, add a piece of wire to the back of the hat for a hanger.
Elmer's® Craft Bond™ Tacky Paste; Dow Styrofoam®Brand Plastic Foam; Forster® Dowels & Woodsies™; Ceramcoat® Acrylic Paint, Texture Medium; Eagle® Paint Brushes; Darice® Raffia, Wire, Straw Hat; Fiskars® Scissors, Softouch® Craft Snips.