by Lynda Musante
&nbsp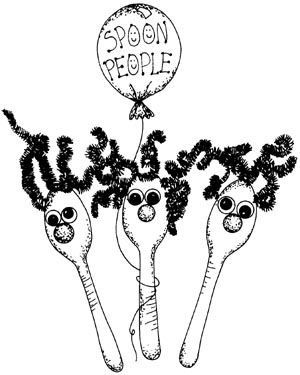 Wild and wacky spoon critters could be hiding in your kitchen! Add some paint, wiggle eyes and imagination to bring your critter to life.
You will need:
2 Wiggle eyes
Small pom poms (optional)
Tacky glue
Scissors
Plastic spoon
4 Glitter chenille stems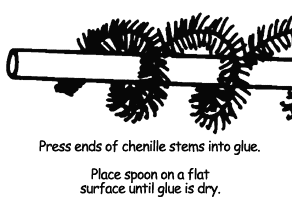 Instructions: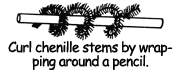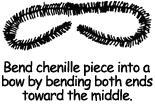 Cut four chenille stems in half. Curl 7 chenille stems by wrapping around a pencil to create hair. Squeeze a generous amount of glue across the bowl of spoon. Press ends of all 7 chenille stems into glue. Place spoon on a flat surface to dry with the "curls" toward the table, then squeeze more glue over the top of stems. Allow to dry. Gently pull the curled ends of chenille stems. Allow to dry. Gently pull the curled ends of chenille stems into different directions to look "wild".
Glue wiggle eyes to the rounded side of spoon. Gluing the wiggle eyes in slightly different positions will change the puppet's expression.
Glue pom pom below eyes for nose. Bend remaining chenille piece into a bow by folding both ends to the middle then twisting loops in opposite directions. Glue to the handle just under bowl of spoon. Allow to dry.
Options: Create different looks for you spoon critters by adding more hair, adding beads to the chenille stems, gluing on pom poms for hair, or gluing a short piece of chenille on face for mustache.
Darice® Chenille Stems & Wiggle Eyes; Elmer's® Craft Bond Tacky Glue; Fiskars® Student Scissors.
Home | Television | Projects | Book Order | Helping Kids | Teachers | Philosophy
E-mail questions about Hands On Crafts for Kids to info@craftsforkids.com
© Copyright 2004 Katherine Stull, Inc.