by Julie McGuffee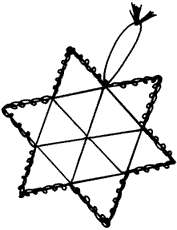 Tatting, crochet and hairpin lace are techniques for knotting thread to make "lace-like" doilies for the home and embellishments for clothing. Traditional tatting is a long process, but you'll find it fast and fun with this easy technique.

You will need:
White Cotton Cord or Yarn
Large Eye Plastic Needle
7 Craft Picks
6 Pony Beads
Fabric Stiffener
Decorative Glue
Wax Paper
6" Styrofoam Disc
Pencil
Paintbrush
Instructions:
Trace around the styrofoam disc onto wax paper, then cut out the circle. Fold the circle in half. Fold in half again to mark the center then into thirds. Unfold the wax paper circle then place on top of the styrofoam disc. Hold in place by placing a craft pick in the center and at each fold line, approximately 1/2" from the edge. Push the craft sticks well into the styrofoam so that only 1" is showing at the top. Break off any tips that appear through the bottom of the disc.


Place a pony bead over each craft stick. Make a slip knot in one end of the yarn then thread the opposite end onto the needle. Pull needle and yarn through the slip knot to make a loop then place the loop over the craftsticks. Pull tightly so that the loop rests on top of the pony beads with the slip knot between two picks.


Using the needle and yarn make "blanket" style stitches around the loop, ending at the original slip knot. Referring to illustration pull the yarn backwards and forwards across the circle. Thread the yarn through stitches on outer ring to keep it in place. Tie the ends together to finish.


Dip the paintbrush into fabric stiffener and thoroughly saturate the yarn snowflake avoiding the craftpicks. Let dry completely then squeeze decorative glue over the top of the yarn. Let dry then remove from the picks and the disc.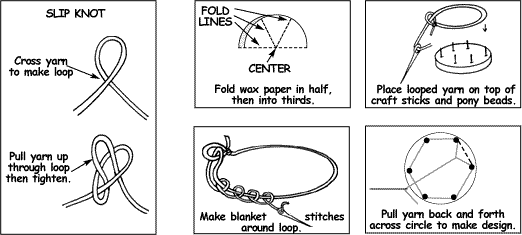 Dow Styrofoam® Brand Plastic Foam; Elmer's® Craft Bond™
Fabric Stiffener & Fun Dimensions™ Ice-A-Delic™ Cool Gel;
Fiskars® Creative Works® Paint Brushes
Home | Television | Projects | Book Order | Helping Kids | Teachers | Philosophy
E-mail questions about Hands On Crafts for Kids to info@craftsforkids.com
© Copyright 2004 Katherine Stull, Inc.